فــــــــضــــل الله زاهــــــــــــــــدی
برای خواندن متن پارسی به
اينجا
کليک کنيد
Fazlollah Zahdi
Fazlollah Zahedi, born in Hamedan in 1892, Fazlollah was the son of Abol Hassan "Bassir Diwan" Zahedi, a wealthy land owner at the city of Hamedan. During his service at the Imperial trained Iranian Cossack Brigade, one of his military superiors was Reza Khan, who later became the Iranian monarch. Zahedi was among the officers dispatched to Gilan to put an end to the Jangal movement of Gilan that was creation of Mirza Kuchak Khan. At the age of 23, as a company commander, Zahedi had led troops into battle against rebel tribesmen in the northern provinces, such as Tokman Sahra and Gilan. Two year later Reza Shah promoted him to the rank of brigadier general. The alliance, forged between the two men, was to endure a lifetime and continued to bind their sons, personally as well as politically.

He was also involved in the overthrow of Seyyed Zia'eddin Tabatabaee's government in 1920. It was Colonel Zahedi who arrested Sheikh Khaz'al Khan and brought him to Tehran.

During Reza Shah's reign, General Zahedi was named (1921-26) military governor of Khuzestan province, holding the hub of Iran's oil industry, and in 1932 chief of national police, one of the nation's top internal posts. During World War II he was appointed (1941) commanding general of the Isfahan Division. Following the forced abdication of Reza Shah (1941), Zahedi was arrested by British forces in 1942 allegedly for his sympathy for Nazi Germany. He was flown out of the country and interned in Palestine until the end of the war.

In August 1953, Mossadegh attempted to convince the Shah to leave the country. The Shah refused. Mossadegh following long ordeal closed, the parliament, justice department, and supreme Court, revolted against Shah's request. In accord of Iran constitution, there is no such option as Refrendeum allowing an appointed Prime Minister shuting down the Majles, taking over the most prominent bodies of government. in Accord of the same constitution of 1906, only Shah appoints the PM and one considered to remain PM until Majles (Parliament) is in order. There is no such "elected" Prime Minister whatsoever. therefore when Shah requested Mossadegh to leave the terminate his cabinet, his refusal considered as rebelion act of the man against constitution.

Formally dismissed Prime Minister, in accordance with the Constitution. Mossadegh refused to resign, however, and when it became apparent that he was going to fight, the Shah, as a precautionary measure foreseen by the people of Iran, that he might form a coherent government along with Toudeh Party (A communist group related to the USSR - Communist Russia) in fear of their life uprised against Mossadegh.

Second rebellion act of Mossadegh occured when he arrested the offcial government envoy, ( Col. Nassiri) delivering Shah's order, On August 15, 1953

Supported by the main members of Mossadegh Cabinet turing back to Mossadegh, most prominent Ayatollahs forming coallition against Mossadegh, a counter coup on the 19 August 1953, (Mossadegh conducted a Coup against constitution and the government on August 15, 1953) drawing supporters from the military as well as the public occured.

Fazlollah Zahedi appointede as Prime Minister relying for his legitimacy on the Shah's decrees, Zahedi sent out thousands of copies, along with the proclamation of himself as Prime Minister following people's uprising to keep the same formation prior to the 15th August 1953. The Shah returned triumphantly from exile on 22 August 1953.

Many contemporary sources attribute the coup, or counter coup, entirely to the U.S. American CIA and agents of the British MI6 who are reported to have organized and paid for it. These sources point to many other coups in which the CIA was instrumental, such as those in Congo (1964), Chile (1973), and Algeria (1991). Monarchists, however, argue that the counter-coup was in fact a popular uprising, and that the foreign intelligence agencies' undeniable involvement was peripheral. At least some historians argue the coup could not have taken place without both CIA organizing and Iranian support. And there was no support for such claim.

Zahedi descends from the Sufi mystics Sheikh Zahed Gilani (1216 - 1301). Through his mother, Djavaher Khanom, he traced his descent to the dynastic ruler Karim Khan Zand. Zahedi married Khadijeh Pirnia, daughter of Mirza Hussein Khan Pirnia (titled Motamen-ol-Molk), and granddaughter to Mozzafar-al-Din Shah Qajar (1853 - 1907). They had a son, Ardeshir, and a daughter, Homa.

Ardeshir, a later politician and diplomat, married Princess Shahnaz Pahlavi, daughter of Mohammad Reza Pahlavi from his first marriage to Princess Fawzia of Egypt, daughter to King Fuad I. Homa Zahedi was a member of Parliament.

Fazlollah Zahedi remained PM until 1955, on time that he was appointed as Iran's Representent at UN - Geneva section. He died on 1963.
General Fazlollah Zahedi Pictures
---
برخی تاريخ ها در متن پارسی و انگليسی ممکن است دقيقا مطابق نباشد دليل آن محاسبه هائی است که يک نويسنده انگلیسی و پارسی هنگام تبديل تاريخ انجام می دهد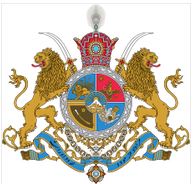 نماد ملی شاهنشاهی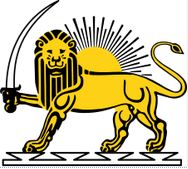 نماد ملی ايران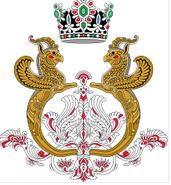 نماد ملکه ايران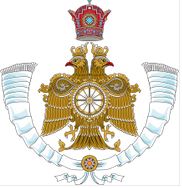 نماد وليعهد ايران